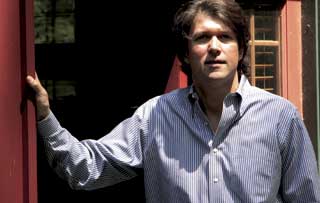 Adapt to survive is agency's philosophy
When a CBS facility in Stamford closed, Chris Thomas saw an opportunity of a lifetime. An auction was being held to sell off video equipment the TV network had used. Thomas was ready to start his own business. He had spent several years freelancing as an animator.
Since his childhood Thomas displayed an avid interest in animation. With a Super 8 millimeter camera, he produced animated movies by sketching images, taking pictures of them and then filming them frame by frame. "Growing up I did Claymations, played the piano and organ and always seemed to have a love for photography and music."
Now 42, Thomas has never left his roots.
"I was able to pick up a Silicon Graphics workstation for $500. It was worth at least $100,000," Thomas said of the auction in 1991. With the machine Thomas could create 3D animation pieces for clients, propelling the start of his business.
He funded the start of Inverse Media L.L.C. himself and attracted clients by using contacts he garnered while working for ad agencies and television stations.
Shooting with an animation camera, Thomas was able to produce visual effects "that were quite sophisticated," he said.
For one client, 60 projectors were synchronized to produce slide shows with graphics. The work was labor-intensive and time-consuming.
Thomas soon realized that the manner in which animation was being produced was going through a whirlwind change. Computers had begun to replace the equipment Thomas had purchased. "When PCs made their way into production, I saw it was going to be a revolution in the way we produce work," he said.
He quickly switched gears and purchased computers. Clients began taking note of the company's ability to use computer technology to develop animation and work began pouring in. General Electric Co. in Fairfield and Philips Medical System N.A. in Bothell, Wash., contracted with Inverse to produce graphics for corporate presentations.
Clients sought the company for illustrating concepts that were either too hard, small, or too graphic to be seen. Medical equipment companies that needed help in showing how their devices could be used in procedures turned to Inverse Media.
"Typically, they need to visualize processes like using an X-ray machine for treatment of cancers," Thomas said. Animation was used to illustrate X-ray or laser beams, which are invisible to the eye and how they aid in diagnosing or treating medical conditions. Apart from working on medical pieces for networks such as NBC, the company has also developed graphics to illustrate open-heart surgery for U.S. Surgical in Norwalk.
Thomas spent much of his time marketing the business by handing out video tapes of the company's work to potential clients. He said adding value to the end product is important in sustaining the business' growth which averages 20 percent per year.
"Our profitability has been in recognizing that we had to add top-level services," Thomas said. Those services include helping clients with brand positioning, strategic planning for marketing, developing corporate identity, product launches and Web site design. Tina Cressia, vice president of business development, said the company has stayed in its core competencies of computer animation, marketing and communication.
But in 1997 a client approached the company with a problem. It had telephone books from the early 1900s and wanted to convert them from printed form into digital. "They came to us not because of our traditional marketing experience but because of our technical abilities," Thomas said. Inverse's seven employees, including two computer programmers, developed a customized tool that would help convert the 8 million pages of data into digital files. Afterwards, the software which Inverse created was marketed to publishing companies.
Named Column Clipper, the software has made headway in generating revenues for the company. It is now 30 percent of Inverse Media's business. Optical Character Recognition, the term used to describe the process of converting the data, seems to be a growing industry, Cressia said. As a result, the tool will play an important role in the future growth of the business.
"We have to evolve as technology evolves and as clients' needs change. We know how to use our technical capabilities and execute to deliver new solutions for our clients," Thomas said.
Those new solutions include treating visitors to cell phone company Cingular Wireless' Web site to an animated demonstration of the phone's capabilities. Flash animation for America Online's Instant Messenger as well as online promotional contests and sweepstakes are also some of its larger projects.
Delivering streaming videos to company executives and distributing what it calls "video magazines" on the Web are other areas Inverse has ventured into.
Because of its adaptability to changing technology, the company has been able to target a vast cross section of clients. Part of its revenue stems from the advertising industry which is expected to grow by 6.4 percent this year in the United States to $280.6 billion, according to a report by Universal McCann in New York City, a global media services company.
Last year, dot-com advertising increased by 22 percent to $2.69 billion in the nation. However, "As the Internet grows and changes, the competition for their marketing communication funds will certainly grow and change," the report states.
Thomas is gearing up for the competition.
"One thing I've learned is that our business changes probably every five years in advancements in technology. We're always keeping tabs on the latest evolving technology. We've gone from sexy TV commercials to scanning dusty books. That speaks of our prowess to achieve."